Best Off-Grid Water Heater
Grid connected customers have many options for how they heat their water, but off-grid customers have fewer. It's typically either carrying in propane, putting in a much larger solar and battery system, or installing a Sunbank solar water heater. And in terms of long term operating cost, convenience, and low emissions, there is no questions about which is the best off-grid water heating option.
Heating water accounts for 30% of the average grid-connected home's energy consumption. For people living off the grid with ultra efficient appliances, that percentage is much higher and eliminating this energy consumer is of even bigger importance. Building a solar and battery system that is large enough to handle water heating would be much more expensive than a solar water heater. And trucking in propane for the next 20 years would be even more expensive than that.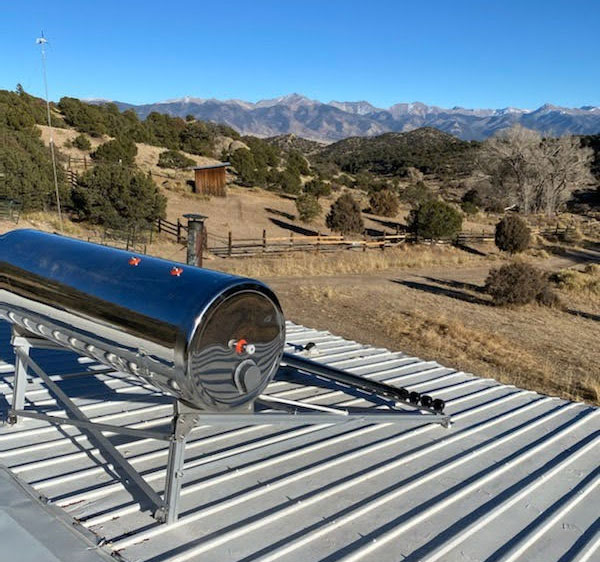 And in a way, installing a Sunbank can even give you extra battery capacity. When your batteries are full you can direct the charge controller to send current into the 120V element in the Sunbank. This allows your Sunbank to be used as a battery, in the sense that you can add heat to your Sunbank from energy that otherwise would not have been generated.
30% Federal Tax Credit
The Sunbank has one of the higher upfront costs for off-grid water heating. But, the biggest cost of water heating isn't up front costs, it's the ongoing operating cost for 30+ years of fuel. And this is where the Sunbank shines. And to help with that upfront cost, you get 30% of it back thanks to the Residential Renewable Energy Tax Credit – the same credit that you use for your solar panels. The tax credit incentivizes installing the Sunbank, instead of those cheap little propane tankless water heaters that don't provide enough hot water.
Ease of Installation
More than half of all Sunbank customers are self-installers. We work hard to make sure that there are good resources available to self-installers, from installation videos and manuals, to post-sale installation support. Enabling people to install solar water heaters is central to our mission.
Part of why the Sunbank is so easy to install is because it is a passive system. This means that it requires no pumps (or electricity) to operate, and is much simpler than an active solar water heating system.
A Better Experience
When deciding how to heat your water, cost is undoubtedly an important factor. But so should be the experience of taking a really good, hot shower. The current standard for off-grid water heating are the cheap ultra low flow outdoor propane heaters that don't provide enough hot water for a good shower. Especially for an outdoor shower. There is a big difference between that experience, trying to stay warm enough and shower as fast as you can, versus having a hot storage tank with all of the hot water volume and pressure that you want.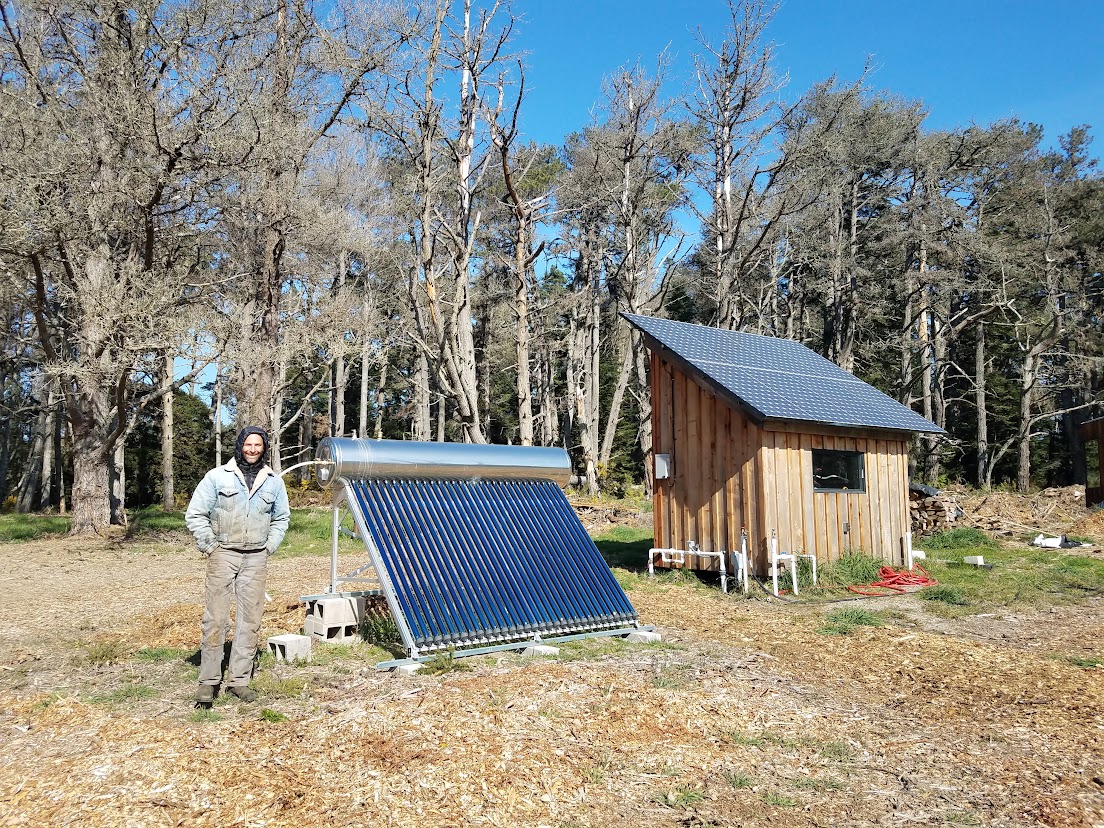 Earthship Biotecture, based in Taos, New Mexico, uses Sunbank solar water heaters on their homes. And as off-grid living becomes more popular and people move away from the grid, we are finding more off-grid customers who are drawn to our solar water heaters. Sunbanks are heating water for off-grid hunting cabins in Montana, farms in Tennessee, off-grid ranches nestled in the mountains of Colorado, and tiny home compounds on the California coast.
The Sunbank is the best off-grid water heater because a) it's easy for a DIY installer and has low to no operating and maintenance costs b) the Sunbank requires no electricity to operate, and c) the Sunbank requires no propane to be trucked or carried into your property.