Almost all of our customers use a solar controller to monitor the temperature in their Sunbanks, to turn on and off the backup heating element if they are using it, and/or for overheat and freeze protection. All of these controllers have a temperature sensor which goes into the tank, and a relay which can turn on and off the heating element based on the temperature. We have three solar controllers, also referred to as thermostats, that our customers commonly use. We'd like to explain the differences between these controllers so that you can make an informed decision when purchasing your Sunbank.
Smart Home Solar Controller
Our newest addition to the controller options is our smart home controller, or smart thermostat. We're really excited about this option and we're the first solar water heater manufacturer to offer a smart controller. This controller does not have a screen. Instead, it shows the Sunbank temperature and is programmed entirely using an app on your phone. This controller requires that you have a 2.4 GHz WiFi signal that can reach your Sunbank tank, as this controller is mounted outside in a weatherproof (plastic) junction box. Before purchasing this controller, make sure that your WiFi router is putting out both a 5GHz and 2.4GHz signal (all smart home devices use 2.4GHz signals because they have better range). If it's not, you can go into the router settings to have it put out both signals.
This controller is extremely versatile. It can work in conjunction with a smart plug and a  recirculation pump (both of which we can also supply) for overheat and freeze protection. It can also integrate with your Amazon Alexa or Google Home to work with other smart home device. For example, you can set the recirculation pump to be turned on by a motion detector in your bathroom, so that you have instant hot water at the tap whenever you're ready to use it. While many customers are drawn to the hard wired controller, others will appreciate the ability to check your Sunbank temperature and program the controller remotely from anywhere in the world. We expect the smart controller to eventually replace our other controllers, but which of these controller options is right for you will ultimately come down to your preference. We're happy to discuss the pros and cons to help you decide.
609C Solar Controller
The 609C controller has been our standard bearer, but is likely to soon be eclipsed by our new smart controller. This thermostat mounts indoors and has great functionality. Like all of our controllers, it can run on 120V or 240V electricity, depending on which type of element it is powering. The SB-40G and SB-80G comes with a 240V – 2400W element standards, but we do have the 120V – 1500W element option available. 
The 609C has a timed heating function which allows it to be programmed to turn on the element whenever the Sunbank falls below your set point (usually 120F). It also has overheat protection and freeze protection features, when used in conjunction with a recirculation pump. These features are good for the occasional overheating in the summer or to protect the pipes in unconditioned spaces from freezing during the winter. We have a programming video for the controller here.
A421 Solar Controller
Our final controller option is almost exclusively used by our customers who are replacing their Solahart or other passive type solar water heaters. Because these systems already have electricity run to the roof with a thermostatic element and timer, the simplest way to replace these components is with a thermostat that is also mounted on the roof. This controller is rated NEMA 4X, which means it is in a weatherproof enclosure. This controller is only a temperature controller, meaning it can operate the backup heating element but does not have any overheat or freeze protection features.
Customers who are replacing a Solahart system can use either of our other controllers, as well. It is the installers who typically like the simplicity of using this controller, because it contains all of the work to the roof. To use our other controllers, an electrician would cut power to the circuit, wire the controller into the existing line, and wire up the element.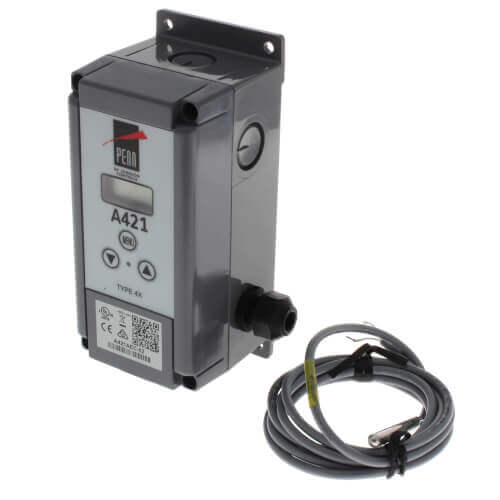 As always, please let us know if you have any questions regarding this or any other aspect of our system. You can always reach us at 888-385-0005.